PAST EVENTS:
Shannon Hayden is a classically trained cellist who has never been content to stay strictly within the confines of the traditional course of study. When not performing her own pieces, Shannon focuses on 20th century and contemporary works and has enjoyed working with composers Ezra Laderman, David Lang, Fay Wang, and percussionist/composer Andy Akiho.
Her own music is a combination of process and looped cello and voice.
Noordwiijk - Electronic musician hailing from Montreal, Québec, Canada

The Tangent Project - The world class electronic music duo hailing from the Philadephia area, consisting of Jeff Colter (keyboards/electronics) and Harrison McKay (Guitar) make a return appearance at Even Horizon.
---
May 9th - Woz, Audio Mace and PYXL8R
Woz - Paul Woznicki, arrives for his semi self-titled album, WOZ. Woznicki is a film and TV scorer, working on movies such as Fiend in 1980. One year later, 1981, Woznicki released his WOZ LP, a record now some thirty years old and ready to resurface. "Straight Ahead" comes from the world of electronic soundtracks, melodies countering one another in an atmospheric piece. The album has a whimsical quality, harmonies delicately being strung out against a fantastical and sci-fi drenched backdrop. "Tongue Depressor" contains echoes of minimal synth, the movie scorer coiling a spool of sound. "2nd Attempt" has a similar feel to some of Legowelt's more soundtrack based material. There is a sinister and unsettling aspect to Woznicki's sound, an insular and claustrophobic element reflected in the haunting melodies and spiraling synths. "Wozzie's Waltz" is a work of dramatic distortion, chords compressed into a whirling piece before "Zerkon" lifts the listener to loftier levels. "Flashbacks" sees the curtain fall, oscillators cascading over a taciturn tom-tom.
W.T.'s back catalogue contains myriad styles; this latest pair of EP's see that same eccentricity explored. Nao Katafuchi are already turning heads, Yumogeto being a 2012 favourite of Xeno & Oaklander's Liz Wendeblo, with their sleek brand of synth wave. Woznicki comes from a more obscure place, a trailblazing sound of rebounded reverbs and polyphonic perplexities. Undoubtedly even more interesting music will come from the New York imprint in this New Year.
Audio Mace is Chris Wikman and Al Baldwin from Maryland.Audio Mace is the second project for this duo who previously released "Kadath – The Dream Quest" as XCross, to reviewers acclaim. . Audio Mace was formed to provide a vehicle for exploring the power of sound through "sound-based music" "the art form in which the sound and not the musical note is the basic unit." (Landy, L. (2007) Understanding the Art of Sound Organization. MIT Press.) Born out of recognition of the power and force of sound in our lives, Audio Mace combines electronic instrumentation with exotic instruments (including several unique and "home-made" ones), sound textures, rhythmic elements, and percussion as it seeks to explore new themes and sonic textures. These elements merge to create unique and evocative, often extended, musical journeys. Each piece is crafted to express a specific musical idea/storyline and incorporates a variety of musical styles as the concept and artist intent dictate Drawing from dark ambient, program music, industrial, and space rock, among others, the music creates a powerful and mystical atmosphere, evoking other worlds and dreamscapes for the listener. To hear examples of their work, visit their soundcloud page. For CDs visit there CD sales site.
PYXL8R - Ken Palmer uses the name PYXL8R for his solo musical projects when not performing with his instrumental prog band, Brainstatik. Each song begins life as a spontaneous burst of synthesizer-based long-form improvisation around an thematic motif, which is slowly morphed and massaged into a full piece. Ken will once again be accompanied on stage by his son Kyle on synthesizers and iPad, and the PYXL8R duo will debut some new pieces during this performance. Atmospheric, otherworldly, and always dense with unusual sonic textures, all PYXL8R compositions are performed live with no backing tracks. A collection of more than 50 PYXL8R songs can be listened to and downloaded for free at his soundcloud page.
April 11th - Northern Valentine, Big Plastic Finger and Kohoutek
Northern Valentine Northern Valentine is a Philadelphia, Pennsylvania based ambient/drone
Coaxing sounds from electric and acoustic sources, they weave meditative drones and soundscapes with "barely there" post-rock instrumentation to create a tapestry that Phil McMullen (Terrascope Online) refers to as "minimalist ambiance at its best. Heartfelt, soulful and affecting, like gazing into a scrapbook of memories". collective anchored by husband and wife, Robert and Amy Brown.Their music is largely improvisational and is often set to original films that the collective has created.
Big Plastic Finger - The tumultuous noise of molecules recombining into alarming streaks of shooting stars, the massive force of an ocean gone wild usurping the tension of abandonment and opulence coexisting, reach audible proportions in the music of Big Plastic Finger. Those who come from the perspectives of psychedelia, noise, improvisation, hard core, experimental, and rock will all sense something slightly familiar - but will find themselves in BIG PLASTIC FINGER's adventurous realms, meant only for the bold.Shape shifters of space, BIG PLASTIC FINGER multiply and manipulate energy, transmuting sound into a physical force. Playing together for over 4 years, the core principles are: Bonnie Kane - sax, flute, electronics; Scott Prato - electric guitar, electronics, vocals; and Mark McClemens - drums.
Kohoutek - Improvised Psych with Noise Tendancies and Abstraction
December 14th - Beck-Fields, Tom Carter and Delicate Monster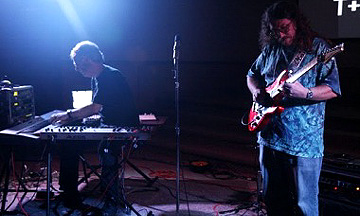 Delicate Monster Both Art Cohen (guitar) and Steve Bowman (synths) love to arg ue about what makes g ood music-with each other and with anybody else who feels as passionat ely as the y do. Through Delicate Monster, they make their arguments
in sound. When Art and Steve disagree with each other, it's a consequence of their divergent musical backgrounds. Art is rooted in psychedelic guitar,Berlin-school spacemusic, and American folk. He's been a fixture on the Philly music scene for 25 years-you may know him as half of the duo The Ministry of Inside Things (with Chuck van Zyl). Steve has a musty degree in Music from Harvard, where he first encountered the Buchla. He draws his influence from classical music and radical composers like Ives, Stockhausen, Subotnick, Monteverdi, Bach, and Ligeti. (Their musical tastes do overlap with the Grateful Dead and Captain Beefheart). Art pushes Steve to let the music be clear and simple and to groove on the repetition. Steve pushes Art to surrender to his weird side and luxuriate in the complexity of counterpoint and the thrill of abject dissonance. Playing together off and on for 20 years, Art and Steve have managed to merge their stylistic differences into a novel musical language that is Delicate Monster.
Beck-Fields - Composer Jeremy D. Beck brings his ethereal aesthetics through guitar, piano, and
voice to the electronic genius of William Fields, a veteran in atmospheric and dance works alike. Together they recognize no boundaries of style or genre. The duo is always expanding upon architectures and projections of sound, afforded by their near limitless collection of instruments and knobs. The result is a vast spread of original and unique scenery through the chance realm of improvisation.
Tom Carter - Tom Carter's electric guitar work weaves spare strands of melody into towering long-form drones, sculpting a rich landscape from both high-volume grit and charged silence. Although best known for his work with iconoclasts Charalambides, which he co-founded with Christina Carter in 1991, Carter has recently focused on his eponymous duo with No Neck Blues Band co-founder Pat Murano; Sarin Smoke, his duo with Pete Swanson; and his solo performances and recordings, which have increasingly featured visual components - including collaborations with filmmakers Martha Colburn and Margarida Garcia.




November 9th - Ombient (with Special guest Chuck Van Zyl), Mke Rabito, The Time Merchant
Ombient is the moniker under which Mike Hunter performs his ambient/drone/experimental music. Ombient's ambient/drone/electronic music, being of a live and improvisational nature, is representative of the feeling of the moment in which it is performed and of the subtle feedback between the audience and the performer. Mike is also the host of the radio show Music With Space on WPRB 103.3 FM out of Princeton, NJ Performing with Ombient for this show is Chuck van Zly. Chuck is best known as host of STAR'S END (WXPN's renowned radio program of spacemusic dreamscapes) and as coordinator of The Gatherings (Philadelphia's premiere concert series of innovative music), Chuck van Zyl has also been making his own amazing and unique style of electronic music since 1983.

Michael Rabito is a musician that has been discovering his propensity for the fusion of opposites
for many years now. He started taking the electric guitar seriously when he was eleven and was playing out professionally by the time he left for college with his band in Vermont. After a move to Boston the bringing together of the free flow of improvisation and the rigidity of structure increased as he played with a group of Berklee College of Music musicians for about five years. During this time his interest in loops, synthesizers and keyboards began to grow and helped to fuse space, harmony, action and dissonance. This has all culminated with his latest project back in the Princeton area called Manifested; A progressive fusion of funk, rock, dance and ambient music that has brought the group to New York, Boston, Philadelphia and many points between within their first year. They can be heard here with more information at their facebook page. Michael also performs interactive ambient space music with local visual artist Ted Klett. They will be preforming at Art All Night on June 15th -16th and can be heard at on the AutonomicDrone soundcloud page.
The Time Merchant - With over 50 albums, the ever prolific Time Merchant is on a constant quest to explore sound. The first album appeared in 1994. Little else is known as The Time Merchant tends to keep out of the public eye, preferring instead to hide away in the recording studio (the wave chamber), working methodically to create the next sound world. Works have explored several genres, including: experimental, dark ambient, atmospheric. pure electronic, and various combinations.




September 27th - Ian Fraser, Mark Baechtle (Binc Sonic) & Richard Markus, Loud and Sad
Ian M. Fraser is a computer musician working in free improvisation and algorithmic based composition. His primary focus is generative structures, pseudo-artificial intelligence, stochastic processes and networking systems for audio/visual output. With Reed Evan Rosenberg, he works with the continual development of Keroaän, a musical Artificial Intelligence designed to perform without any human intervention what-so-ever. In live performance they combine live generative works with real-time visualizations utilizing high intensity strobe lights and lasers. Other recent collaborations include an on going improvised duo with Jesse Kudler, and an audio visual collaboration with AP Vague. Ian is the co-director of the Philadelphia Sound Forum.
Mark Baechtle and Richard Marcus are two seasoned avant garde musicians who have been
familiar faces in the electronic music scene. Both have worked extensively in designing sound and live compositions for theater companies, video production teams and modern dance choreographers. These artists have performed live at museums, galleries and festivals locally and abroad in solo and in collaborative projects. Using the newest technology and keeping true to their analog roots, this electronic improvisational duo has a vibrant spirited approach to the sound they create, exploring the new and redefining the old. The past couple of years in the studio have opened up some new ideas for these two artists in collaboration. They have moved the boundaries of improv/electronic/ambient to a new level of sonic textures and rhythms evoking sound collages in the mind's eye. This project started out as an experiment and has now come to the "horizon" and hopefully will flourish to be witnessed in the mind's eye of the audience. If you hear you will see.
Loud and Sad is the long running collaboration of Joe Houpert& Nathan McLaughlin, currently based out of Philadelphia, PA and Hudson, NY. Both individually in their solo work and together in this duo, Houpert and McLaughlin explore the vocabulary of the reel to reel tape machine as a partner in accompaniment. They have built up this tape machine vocabulary through various phases of their work, utilizing a variety of instrument sources and trying to ground those in social concepts and ideas. The current focus is adding folk instrumentation to that vocabulary, with renewed emphasis being put into the energy of live performance. They have a number of releases that chronicle their various incarnations on labels such as cae-sur-a, FET Press, Digitalis, Greenup Industries and an upcoming release on Tranquility Tapes. You can also hear their work as part of the trio Tilth, with Cody Yantis.
---

June 14th - Mikronesia, Jesse Kudler & Park-Kane
Michael McDermott (Mikronesia) is a Philadelphia based composer, musician and producer. His musical tentacles extend into eight sound disciplines: ambient/soundscape recordings and performance, music for dance, music for films, interactive and static sound/media installations, playing keyboards in musical ensembles, composing music for electro-acoustic ensembles, producing other musicians in the studio and the creation of musical/sound design software. Since the early 2000s Michael has been an active member of the Philaelphia electronic music scene. He has hosted a recurring open forum improvisational electronic music event (now called SHARE Philly) at various venues for the past 10 years. He has played keyboards in live electronic music based bands such as Gemini Wolf and Robots in Disguise. Michael is a co-founder of the Philadelphia based label and music collective, earSnake. He also performs, writes and produces in the electronic music ensemble Gemini Wolf with Megan Cauley. Since its inception in 2005,Gemini Wolf has performed throughout the US and Europe and released five albums on earSnake. As a solo performer, Michael performs under the moniker Mikronesia on piano and electronics. He has performed in major cities around the world including New York, Toronto, Berlin, Paris and London. Michael has scored music and sound design for dozens of choreographers over the years. He has created original music scores for movement-based artists such as Perpetual Mvmt<>Snd, Here Begin Dance, Ring Dance Theater, Jaamil Kosoko and Nora Gibson Performance Group.
Jesse Kudler- Born 1979, improvises on guitar, electronics, radios, and tapes and makes solo performance pieces and the occasional sound installation. Kudler lives in Philadelphia. Current and "recent" projects include: live music with film; sound installation; a duo with Chandan Narayan; a duo with Ian Fraser; HZL, an environmental electronics duo with Tim Albro; duos with Chris Cogburn and Christian Weber; Benito Cereno (with Dustin Hurt, Chandan Narayan, Tim Albro, and Ian Fraser); Tweeter, a treble-intensive noise trio with Alex Nagle and Eli Litwin; and various ad hoc groupings. Kudler is the co-founder and co-Director (with Ian Fraser) of the Philadelphia Sound Forum. He performed as part of the 2012-13 Cage: Beyond Silence festival, 2011 Sonic Circuits Festival, 2010 No Idea Festival, 2008 Dartmouth Festival of New Musics, and the 2007 Phoneme Festival. NB: "Kudler" rhymes with "muddler." Many friends refer to him as "the Kud."
May 24th - Tim Motzer, Melting Transistor, Kohoutek
Tim Motzer - After 14 years of international touring, stunning collaborations, and over 60 albums of credits—this Philadelphia-based guitarist continues to traverse manifold territories in music and has developed a distinct textural guitar voice utilizing looping, bowing, electronics, and prepared techniques ala Cage. He has worked with David Sylvian, Burnt Friedman, Jaki Liebezeit, Ursula Rucker, Jamaaladeen Tacuma, KIng Britt, Markus Reuter, Anthony Tidd, Ari Hoenig, and Theo Travis to name a few. He releases his music on his 1k Recordings imprint and webcasts sessions from his studio at 1ksessions.com. He also continues to score for the world of modern dance and film.(Live projections by Dejha Ti and Erik Silverson)
Melting Transistor - Juan Garces - synths, effects, mixing, percussion
Gethin Lewis - guitar and Floyd Bledsoe - synths, effects, complaining




Kohoutek - Improvised Psych with Noise Tendancies and Abstraction



April 26th 2013 - The Great Quentini, Genetique At 8pm, at The Rotunda, Event Horizon will host performance artist The Great Quentini and the solo electronic musician Genetique. The concert is open to the public, free of charge and will begin at 8:00pm.

The Great Quentini Quentin Davis is The Great Quentini. He is a sculptor and a performance artist who makes his costumes and musical sculptures out of found materials. He has shows in which he wears costumes, plays these musical sculptures, and tells humorous stories; acting out the parts that defy words. These stories are often from his life experience.
Genetique - Aaron Todd is from the Philadelphia area and has been composing electronic music for five years under the name Genetique. Recently, he has performed at Electro-Music 2011 & 2012. A major part of Aaron's music is live manipulation and deformation of rhythmic elements. Many of his themes evoke the feeling of travel by the use of textures that slowly evolve throughout the song. Aaron utilizes both hardware and software instruments, and tends to write music in a minor key that does not conform to a particular genre. His influences include Aphex Twin, Autechre, Tipper, and Cex.
Mar8ram (pronounced Mar-bram) - An electroacoustic duo featuring Bill Marconi on various percussion and Wyman Brantley on computer electronics & electric guitar. Working in the elecroacoustic free improvisation lineage, mar8ram creates a music with space, echoing the classic lineage of this music while leaving room for new innovations to take root. Their most recent CD is entitled Antemeridian.
December 7th 2012 - Chuck Van Zyl & Terry Furber, William Fields
Chuck Van Zyl and Terry Furber - Creating layers of space out of pumping sequencer patterns, strident lead lines and harmonies warm and golden Chuck van Zyl & Terry Furberexplore the inner darkness of electronic music, yet out on the verg of ethereality their music gleams like new. Existing on a plane outside the oppressive rush of modernity this music quotes the classics of Spacemusic without mimicking them. Their musical sensibilities evoke a sense of discovery, with each concert marking a new frontier of sound. Best known as host of STAR'S END (WXPN's renowned radio program of spacemusic dreamscapes) and as coordinator of The Gatherings (Philadelphia's premiere concert series of innovative music), Chuck van Zyl has also been making his own unique style of electronic music since 1983. During the mid-90's Centaur Discs of Scotland released "Celestial Mechanics" (1993) and "The Relic" (1995). These albums compiled many of van Zyl's early cassette releases onto compact discs. It was during this same time period that Synkronos Music released "Regeneration Mode" (1994), the famous collaboration between Chuck van Zyl and The Nightcrawlers member Peter D. Gulch. In 1992 Chuck van Zyl founded the group The Ministry of Inside Things. Along with guitarist Art Cohen they performed dozens of live concerts in various venues and unique spaces and released three live CDs on the Synkronos Music label: "Everlasting Moment" (2003), "Contact Point" (2006) and "Ambient Elsewhere" (2008). "Cenotaph" is the forthcoming solo CD by Chuck van Zyl. The follow-up to "MemorySpace" (2010), "Cenotaph" is scheduled to be released by Synkronos Music on 17 November 2012 to coincide with his collaborative performance with Terry Furber at The Gatherings Concert Series. Listening to the music of Terry Furber one would believe that digital synthesizers had never been invented. Furber demonstrates a masterful grasp of the vintage gear around which the spacemusic genre gravitates and explores the past in a new way. His music is discovered in the act of its making - with Furber perceiving the music as it is being realized. Terry Furber's collaborative effort with guitarist Scott Watkins is the well-known duo Orbital Decay
. They have created several self-released CDs of music produced out of their lengthy jam sessions, as well as the acclaimed studio album "Solar Maxima" (2006).4 Orbital Decay has performed live at E-Music, Soundscapes, Gate to Moonbase Alpha, The Whitaker Center, The STAR'S END 30th Anniversary Concerts and The Gatherings Concert Series as well as on several significant broadcasts of STAR'S END Ambient Radio. Currently Terry Furber is exploring his own solo studio electronic music - as well as the possibilities of the live performance space with collaborator Chuck van Zyl on Saturday 7 December 2012 as part of the Event Horizon series. Both efforts will feature the many classic synthesizers Furber has acquired and restored over the years, including the classic full sound of his 1969 Moog 1P modular system.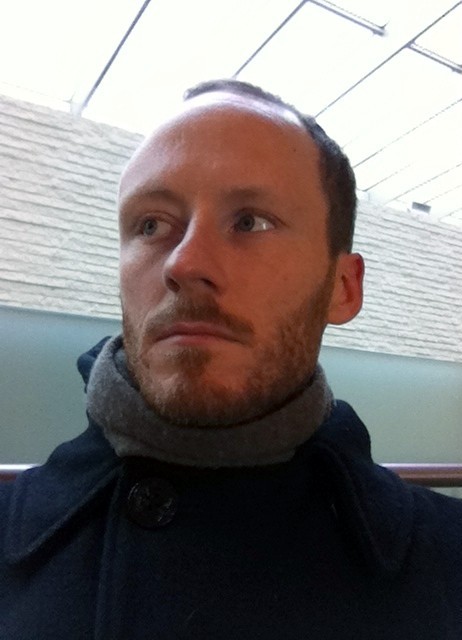 William Fields - William Fields has been creating electronic music for almost 20 years – from textural ambience to hard-driving dance tracks, and everything in-between. He recognizes no boundaries of genre or style, always exploring the vast potential afforded by making music with computers. He is also a student of sound and acoustics, working to present the music in its best possible light. William has released music on various record labels around the world such as: Audiobulb, Gears of Sand, earSnake,Hippocamp, tbtmo, and Kikapu. He has performed and DJ'd throughout the northeastern USA and Canada at events of various scales: from bars and small clubs to festivals with thousands of people. His composition Indra was featured – and choreographed for modern dance – at the 2006 International Computer Music Conference. William is based in Wilmington, DE, just outside of Philadelphia, PA, USA.